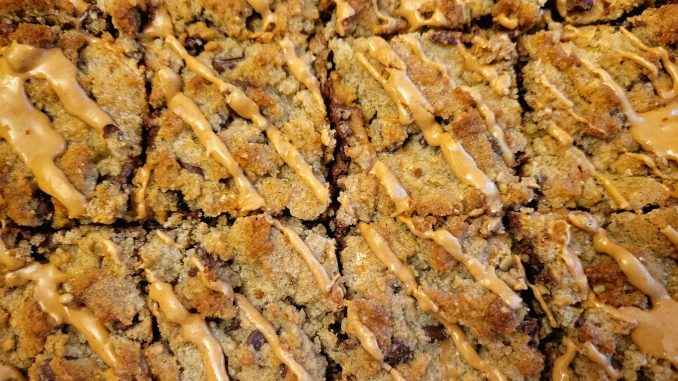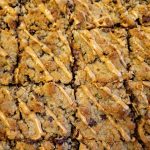 Ingredients
1/4 cup steel cut oats
1/4 cup buckwheat (GF)
3/4 cup coconut flour
3/4 cup almond flour
1 cup butter softened
1/2 cup white sugar
1/2 cup brown packed sugar
2 eggs
11oz caramels
1/2 tsp salt
1/2 tsp baking soda
1/2 tsp baking powder
1.5 tsp vanilla extract
1 cup sweetened condensed milk
2 cups chocolate chips
Few tbsp melted peanut butter
Instructions:
Preheat oven to 375 and spray 8×8 or 10×10 baking pan.
In a mixing bowl add the oats, buckwheat, coconut flour, almond flour, salt, baking powder and baking soda and mix together.
In a separate bowl combine melted butter with vanilla extract and sugars and beat well. Add in eggs one at a time and mix well. Slowly add in flour and then chocolate chips.
Spread half of the cookie mixture on the bottom of your baking pan and cook 10 minutes. Meanwhile melt caramels and condensed milk on double boiler or in microwave. Stir well.
Pour caramel mixture over the cookies and scoop rest of cookie mixture on top. Bake 24 more minutes.
Drizzle with melted peanut butter and a dash of salt.